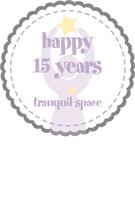 Friday, October 24th from 8:00pm – 10:00pm
You're invited to festivities featuring DJ Alkimist, bubbly libations, and veggie hors d'oeuvres to honor the work of Tranquil Space Foundation and the yoga cOMmunity we've built together since 1999.
Who: Our Beloved cOMmunity
Where: Tranquil Space Dupont
Cost: Free. $20 Optional VIP bags to benefit Tranquil Space Foundation.
Dress: Festive and shoeless
No need to sign up just come join us for the festivities!