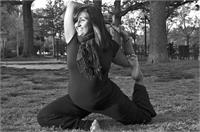 Finding Professional Bliss with Alia Khan
Friday, September 26, 2014 from 6:45pm to 8:45pm
Join Alia, a former corporate attorney turned Realtor + food writer + yoga teacher, for an evening of discussion, asana, and guided journaling aimed at finding a happier balance within your professional life. Whether you want a brand-new career or simply a positive shift within your current situation, are just beginning your own explorations outside of the box or have been on this path for a while, this workshop will help you move towards a happier, more fulfilling, and better-balanced work life.
Through this workshop you'll work on figuring out what you really need to be happier in your professional life. Swap war stories as Alia shares her long and winding career-change journey: what worked, what didn't, and strategies for transforming what may seem like a scary leap into a series of exciting – yet manageable – steps.
For more information on pricing and how to register, see the Tranquil Space webscheduler here.