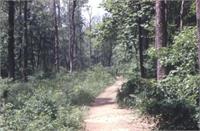 Not All Who Wander Are Lost: Yoga for Hikers with Beatriz Prieto Oramas
Saturday, September 21, 2014 from 9:30am to 1:00pm
Hiking, like yoga, is an excellent exercise for your body and mind. Spending time in nature is a true stress-relieving and soul-satisfying experience filled with peaceful views, fresh air, and the sounds and smells of our earth. Whether you are new to hiking or an experienced hiker, join us for a short hike in Rock Creek Park and learn how yoga can help prepare your body for the trail, and recover from it.
This 3.5 hour workshop includes breath practice, a short pre-hiking yoga practice, a 2-hour hike in Rock Creek Park (aprox), a post-hiking yoga practice, and a restorative practice. During the yoga practice we will target hikers' hot spots: shoulders and upper back, lower back, hips, hamstrings and quads, and of course, ankles and feet. There will be time for exchange of experiences and for swapping tips, connecting with other hikers, and sharing tea and (of course!) granola. For the hike please bring appropriate footwear, clothing and a backpack with water and a snack. For our yoga practice bring your mat (or rent one at the studio for $2), a water bottle, a hand towel and any questions you may have.
For more information on pricing and how to register, see the Tranquil Space webscheduler here.